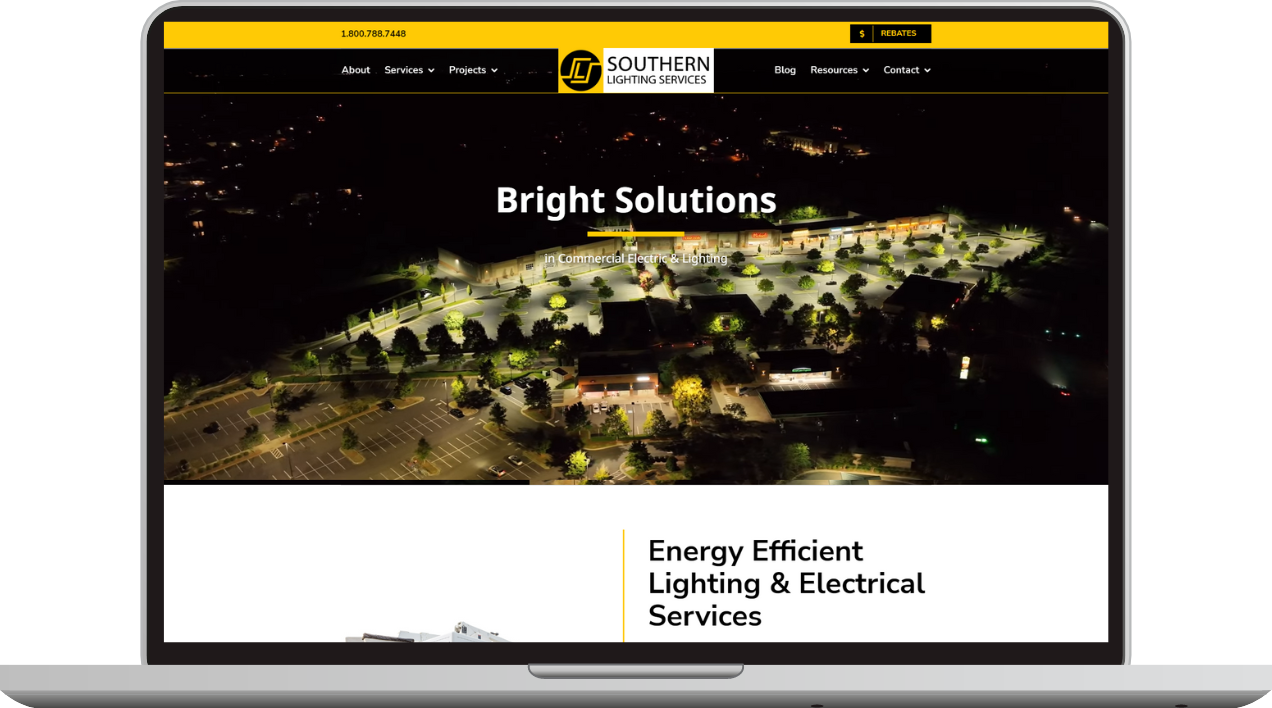 Southern Lighting Services is North Carolina and South Carolina's premier provider of commercial lighting, signs, and electrical solutions. They offer a full spectrum of energy-efficient services, including electrical installation, maintenance, interior and exterior lighting, and sign services. With a commitment to saving you and your business time, money, and energy, Southern Lighting Services is your number one resource for customer-focused services you can trust and consistent quality you can depend on. In 1994, founder Gary Wichello established Southern Lighting Service as a family-owned and operated business built on a foundation of respect and strong business ethics. The Southern Lighting team has grown to be a family of highly-skilled and well-rounded individuals shaped by solid core values and a desire to be the best in the industry.
Client:

Southern Lighting Services
Objective
Our client, a commercial lighting and electrical company, approached GM Web Services with a request for a complete website redesign. They wanted a website that would make them stand out amongst their competition, showcase them as an authority in their industries and highlight expertise in their field. Along with multiple service pages, they also required landing pages for all their services, a dedicated page to showcase their project case studies, and a full online job application form. Additionally, they requested accompanying social media and blog post creation services to improve their online presence. Our objective was to redesign the website to address these specific needs and improve user experience, engagement, and conversion rates for the client.
Solution
Our team at GM Web Services began the website redesign by conducting a thorough analysis of the existing site and identifying areas that needed improvement. To make the client stand out amongst their competition, we developed a visually stunning site that prominently featured their drone footage, highlighting their exceptional work and capabilities.
To showcase their services effectively, we created individual landing pages for all their services, making it easier for visitors to find the information they needed. We also added a dedicated space to showcase their project case studies, enabling potential clients to view their work and expertise.
To streamline the job application process, we developed a full job application form that allowed the client to collect and manage job applications more efficiently.
To enhance the blog post presentation, we designed a clean and modern layout that made the content more visually appealing and easier to read. We also provided accompanying social media and blog post creation services, which helped the client to increase their online presence and reach a wider audience.
Throughout the site, we included multiple call-to-action buttons that encouraged visitors to take action, such as contacting the client, requesting a quote, or viewing their services.
Overall, our solutions successfully addressed the client's specific needs and improved the user experience, engagement, and conversion rates of their website. By incorporating visually stunning drone footage and multiple call-to-action buttons, we were able to create a site that made the client stand out amongst their competitors and showcase their expertise in a compelling and engaging way.

Elevate Your Digital Marketing with GM Web Services
Choose GM Web Services as your partner in unlocking the full potential of your business's digital marketing. With a 25 year proven track record, we have crafted and launched thousands of websites using a transparent, interactive, and client-centric approach. Our commitment to you begins with open lines of communication and culminates in exceeding your expectations.
Backed by a dynamic team of content creators, graphic designers, social media managers, and skilled developers, we are dedicated to delivering digital solutions tailored precisely to your business needs. Our comprehensive range of services covers every aspect of digital transformation. From creating stunning websites and seamless hosting to curating compelling content optimized for search engines.
Allow us to handle your companies digital needs whether website design and development, WordPress management, e-commerce site design, or website hosting. GM Web Services can partner with your business to navigate the intricacies of social media management, Google business optimization, as well as handle your copywriting and blog post needs. Trust our creative process for graphic and logo design to keep your company on brand.
We ensure your online presence shines brightly. Seamlessly integrating automation across platforms, we empower your business to thrive in the digital age.
At GM Web Services, we are primed to transform the web into a powerful tool that drives your business success.