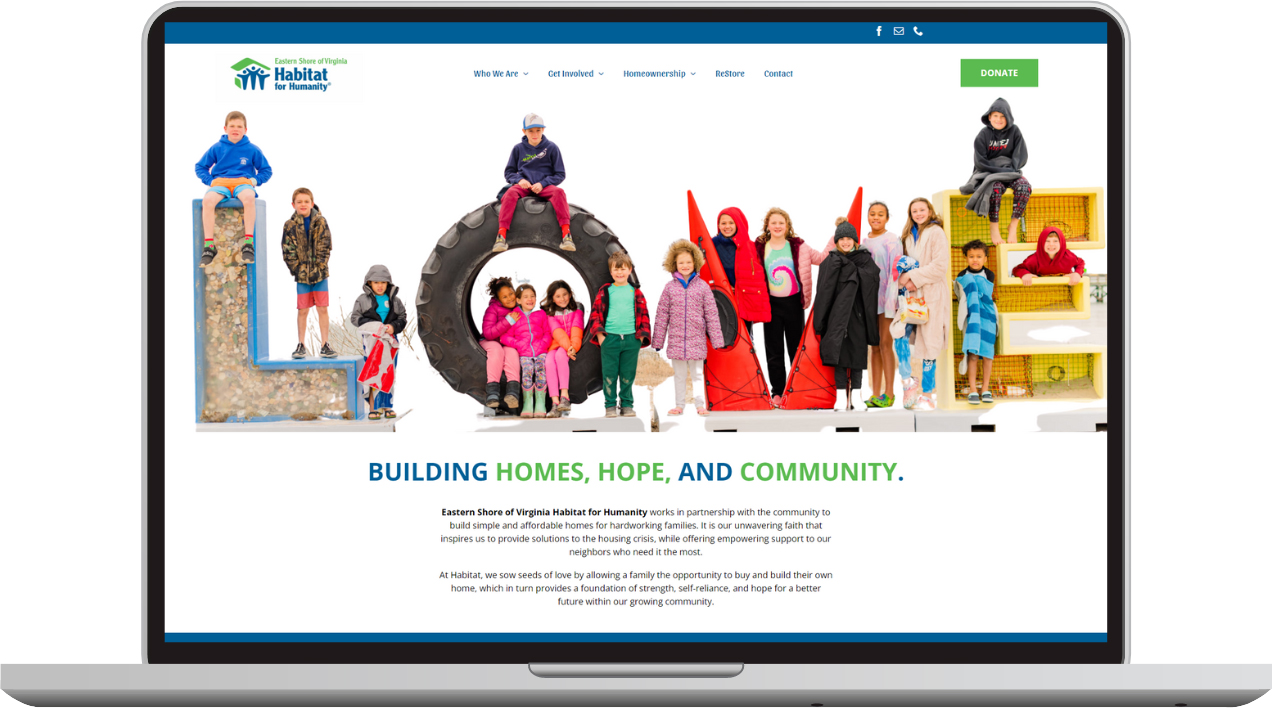 Since 1988, Eastern Shore of Virginia Habitat for Humanity has been committed to changing lives by working in partnership with the community to build simple, affordable homes for hardworking families. Dedicated to a mission of providing solutions to the housing crisis, Eastern Shore Habitat is an independent local non-profit organization that acts in furtherance of Habitat for Humanity's mission to create a world where everyone has a decent place to live. Through volunteer efforts and donations, Eastern Shore of Virginia Habitat for Humanity is dedicated to bringing people together to build homes, communities, and hope.
Client:

Eastern Shore of Virginia Habitat For Humanity
Objective
As an affiliate of a globally recognized brand, Eastern Shore Habitat for Humanity wanted their website to be a platform to bring in new supporters and raise awareness of their brand's mission. They came to us with an existing site that was outdated and difficult to navigate. The client wanted a fresh look that would be on par with Habitat's brand, while serving as a resource for their local community. At the top of their wish list, was a more visually appealing site that would act as a showcase, as well as deliver pertinent information to their audience. While their current site had the bare bones of content and images, they requested our assistance in telling their story with a clear and compelling design, that drives action, is engaging, and user-friendly.
Fonts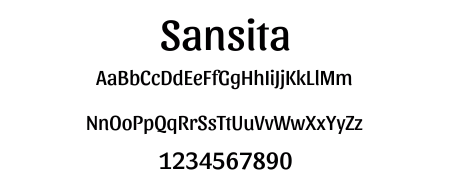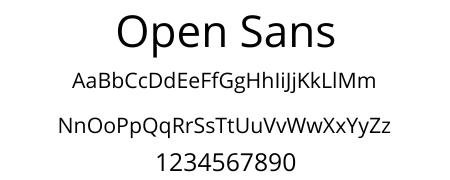 Solution
We designed a multi-page website sensitive to corporate company branding while creating a unique look that conveyed a sense of community and purpose unique to the client's area. We restructured the current site's navigation to make it user-friendly. We created a straightforward, streamlined menu of options to feature their most important messages. The layout was intuitive and allowed users to access information quickly without getting lost in bulky blocks of text. We made sure to select an attractive font, and highlighted key points with headings, subheadings, and clear call to action buttons. We were careful to use only high-quality photos and included lots of images of local volunteers and members of the community to personalize the site and make it more inviting. The finished website highlights the message with abundant imagery, striking colors, and interesting layouts. The new website is responsive, modern, and most importantly, information is accessible.
Elevate Your Digital Marketing with GM Web Services
Choose GM Web Services as your partner in unlocking the full potential of your business's digital marketing. With a 25 year proven track record, we have crafted and launched thousands of websites using a transparent, interactive, and client-centric approach. Our commitment to you begins with open lines of communication and culminates in exceeding your expectations.
Backed by a dynamic team of content creators, graphic designers, social media managers, and skilled developers, we are dedicated to delivering digital solutions tailored precisely to your business needs. Our comprehensive range of services covers every aspect of digital transformation. From creating stunning websites and seamless hosting to curating compelling content optimized for search engines.
Allow us to handle your companies digital needs whether website design and development, WordPress management, e-commerce site design, or website hosting. GM Web Services can partner with your business to navigate the intricacies of social media management, Google business optimization, as well as handle your copywriting and blog post needs. Trust our creative process for graphic and logo design to keep your company on brand.
We ensure your online presence shines brightly. Seamlessly integrating automation across platforms, we empower your business to thrive in the digital age.
At GM Web Services, we are primed to transform the web into a powerful tool that drives your business success.